SkyNorth Air Ambulance has built an extensive team of Advanced Life Support team members.
Whether your destination is an isolated northern airstrip or a major North American city, we'll get you and your people there in a safe, secure, business-friendly environment in one of our fleet of four ambulance aircraft.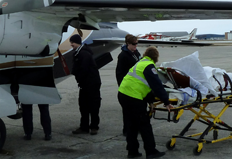 SkyNorth Air provides medical equipped aircraft for emergency medical transport, available 24 hours a day, 7 days per week to anywhere in Canada. Outfitted with a MedSled Aerosled system and advanced life support equipment, our aircraft are able to accommodate ICU, Pediatric and Neonatal patients with a support crew of up to three attendants.
SkyNorth Air co-ordinates with dedicated aeromedical personnel and provincial ground support for each medical transport.
SkyNorth Air Ambulance has comprised an extensive team of Advanced Life Support providers including Paramedics, Critical Care Nurses and Physicians. Each medical transport is customized to the specific requirements of the client, patient or specialty team. All team members have at least five years of Critical Care experience. All team members are certified in:
Advanced Cardiac Life Support (ACLS),
Basic Trauma Life Support (BTLS), and
Pediatric Advanced Life Support (PALS).
Advanced Trauma Life Support (ATLS).
SkyNorth Air Ambulance provides safe and efficient medical transport for provincial health authorities, insurance repatriation and regional organ procurement programs whenever needed.